!!!! Warning: If you can read this after more than one second, then please check that Javascript is activated in your web browser (otherwise this page will not function).
Do you buy from Ebay?
Most people miss out on the best bargains!
Why? Because cheaply priced or rare 'Buy It Now' items sell before you have a chance to find them.
Buy Now Search will alert you, via email, of newly listed fixed price items within minutes of them being listed.
So, if you know how to create searches on Ebay, then get a free account at buynowsearch.com so you don't miss those rare fixed price items that you really want!
Motor Vehicle Fuel Consumption Unit Conversion Calculator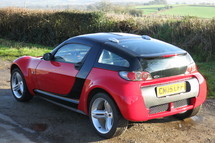 Convert between European (metric), British and American motor vehicle fuel consumption measures: Litres/100km : Imperial MPG :US MPG.
Including Fuel Consumption Calculator (below) - which takes the amount of gasoline (petrol), diesel or gas (LPG/methane) added and the distance you driven (with optional fuel cost calculator to show cost per mile or kilometer in US Dollars, British Pounds and Euros).
Convert Your Fuel Consumption
This calculator converts between various measures of fuel consumption of motor vehicles:
Litres per 100km - the European standard (also used in Canada etc.).
Miles per Imperial Gallon - the UK standard.
Miles per US Gallon - the standard in the USA.
Note
There are 1.200949857 US gallons to 1 Imperial (UK) gallon (US gallons are smaller). Therefore 20 miles per US gallon (less fuel) is more economical than 20 miles per imperial (UK) gallon (more fuel).
Fuel Consumption Calculator
Use this too if you know your distance and amount of fuel (and optionally your spending) and want to work out the fuel consumption that you achieved.
The best way to use this tool is: (a) Top up your fuel tank and zero your trip meter. (b) Make a trip in your car. (c) Top up your tank again, recording the amount of fuel added and the distance shown on your trip meter.
About
This converter and calculator can help your tailor your driving technique to ensure cost effective motoring. It works fine for cars and motorbikes as well as for other vehicles.
I initially created this page in 2006 to aid discussion of the fuel economy of my classic Range Rover on an online forum.
Contact Me
How and why do you use this page? Do you compare your different cars? Do you discuss your vehicle's fuel consumption with people from different countries?
© Mark Porthouse 2017