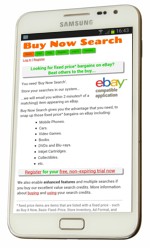 Looking for fixed price bargains on eBay?
Beat others to the buy…
…you need 'Buy Now Search' – an eBay Approved Application.
Store your searches in our system…
…we will email you within 2 minutes of a matching item appearing on eBay.
Buy Now Search gives you the advantage that you need, to snap up those fixed price bargains on eBay including:
Mobile Phones
Cars
Video Games
Books
DVDs and Blu-rays
Inkjet Cartridges
Collectibles
etc.
Buy Now Search also includes local, postal (zip) code based, search features.
As of January 2014 Buy Now Search is available as an App for your Android powered smartphone.